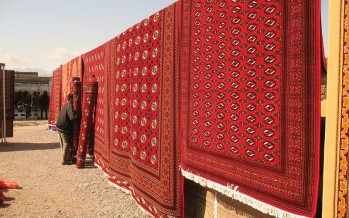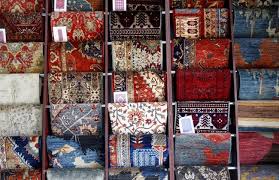 ARC Designer Rugs have a strong commitment to creating thousands of jobs to support Afghan women, especially those refugees returning to the country, including the family of Sharbat Gula, better known as the young, Afghan, refugee girl with the green eyes, made famous on the cover of National Geographic back in 1985.  In her honour, they have named a collection after her, promoting the traditional designs of the century old manufacture of the Afghan rug.  ARC have established the "Sheep2Shop" institute to give formal training and official certifications in all aspects of carpet weaving.  Their aim is to also help to standardise qualities in the industry and with the assistance of the government, have distributed over 5000 looms and equipment, and provided jobs for around 15,000 people.
The ranges cover several main categories including traditional, tribal, Chobi, contemporary, Mamluk, modern and the Gabbeh collection.
The Chobi (or Zeigler) range was commissioned in 1883 by the german, Zeigler company, based in Manchester, England. Using leading designers and master weavers from Iran and Europe, Zeigler & Co. managed to create designs using softer palettes than those typically found in the middle east. Zeigler rugs were designed with the western market in mind.  Based on a softer version of the Sultanabad design, their muted colours, using vegetable dyes and simple, yet striking  patterns, and fit well into both contemporary or traditional settings.
The Mamluk Collection seeks to modernise the carpet industry by engaging professional designers to work with their weavers to re-imagine traditional designs.
See how these true pieces of craftsmanship are made, CLICK HERE